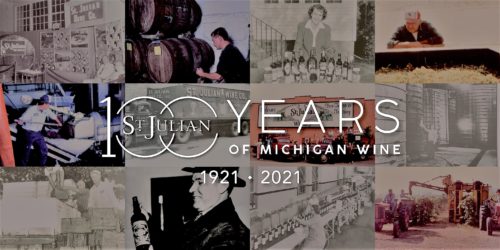 After celebrating 100 years of wine-making last year, Michigan's largest and longest-operating winery announced a new milestone on Monday.
Apollo Braganini II was named president of the Paw Paw-based St. Julian Winery on Monday, becoming the sixth family member to lead the company. He succeeds his father, John Braganini, who will remain with the company as Board Chairman and a corporate advisor.
"A hundred year family business is extremely rare," Apollo said. "It's extremely exciting, and I'm honored to continue my family's legacy."
Apollo has been with St. Julian since 2018, working to revitalize the wholesale and distribution channels along with his brother Dario Braganini. Apollo said he remembers growing up around the winery, from hanging out with his Dario to the wine festival parades and working in the tasting room.
"I was always fascinated with the winery, even as a child," Apollo said. "It's a very memorable place with a lot of special memories that come along with it."
Over the past five years, Apollo and Dario have increased wholesale business throughout the Midwest, and Apollo said he looks forward to continuing that success as president.
"We've been focused on growing the company and improving the infrastructure," said Apollo, adding they have overhauled the storage and adding state-of-the-art wine making equipment. "Our goal here is to continue to grow the business, continue to upgrade and outfit this place and make it one of the top wineries in the world."
Legacy
Mariano Meconi founded the company in Canada as the Border City Wine Cellars in 1921. As soon as the 18th Amendment was ratified and prohibition ended, Meconi moved his operations to Detroit and ultimately to Paw Paw in 1936. It was first known as The Italian Wine Company before being christened St. Julian Winery in 1941.
Meconi and his wife, Avelia, had three children – Robert, Julia (along with her husband, Apollo "Paul" Braganini) and Eugene – each who contributed to the winery. Inspired by his grandfather, mother and father, David Braganini joined the family business in 1973, serving until his death in 2016. At that point, John stepped into the leadership role and soon brought his sons, Apollo and Dario, into the fold.
"Working with my sons was always something I wanted to do," John said. "Having the opportunity to do so here at St. Julian has been a gift."
Under Apollo's direction, St. Julian aims to continue to bring the highest quality products – wine, cider and spirits – to consumers while remaining focused on company's commitment to Michigan agriculture and advancements in technology and production innovation.
"It is a privilege to work with such an outstanding group of people every day and the team at St. Julian truly sets themselves apart from any I have worked with before," Apollo says. "I am also extremely honored for the opportunity to help lead St. Julian through its next chapter alongside my brother and business partner. We are excited to continue our family's passion and legacy. It is a blessing to be able to work with my family every day, and hopefully – one day – my children will stand beside me at this truly amazing company."
By Ryan Yuenger 
ryany@wsjm.com
Comments