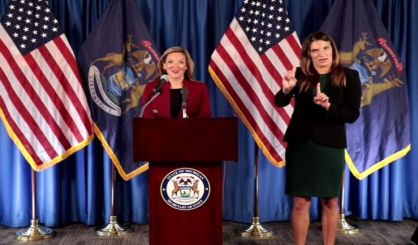 Michigan Secretary of State Jocelyn Benson says voters will be safe and their rights will be protected in Tuesday's primary election and in the general election in November. She spoke Monday to assure voters her office has worked with local clerk's offices across Michigan to ensure they know all the rules and what to do if there are any attempts at disruptions. Benson also noted it may take a while to learn the winners of primaries due to the high number of absentee ballots.
"Bad actors could wrongly claim that the time it takes to finish counting absentee ballots is evidence of malfeasance rather than simply acknowledging the truth that counting often continues long after polls close because the Michigan state Legislature has not provided Michigan election clerks time before election to pre-process absentee ballots," Benson said.
Benson said there could be additional confusion if some media outlets report numbers that don't take absentee votes into account. She urged anyone who witnesses voter intimidation or election interference to contact their local clerk, police, or the Voter Protection hotline at 866-OUR-VOTE.
Comments