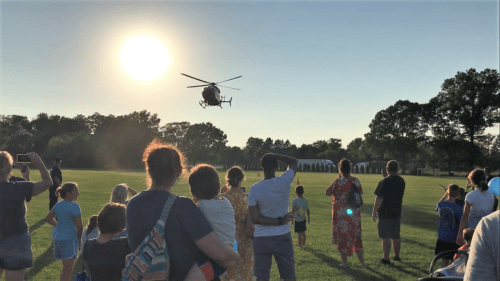 As the sun made its way toward the horizon on Tuesday, children and families watched with excitement as a South Bend Memorial MedFlight helicopter descended on the National Night Out event at Maiden Lane Park in St. Joseph.
Once the helicopter had safely landed, children ran joyfully toward the helicopter. While nobody was allowed inside the helicopter due to COVID-19 protocols, children were able to take pictures with it and the pilots. Watch a recap of the excitement below:
National Night Out, now in its 39th year, is a chance for the public to get to know their local police agencies as officers gather in the park and chat with residents. Those in attendance got to meet St. Joseph Township, St. Joseph city, and Lincoln Township police and fire agencies. Several other public safety organizations were also in attendance.
The event also included include a Jaws of Life demonstration by area first responders, while police cars and other emergency equipment was available to explore.
Comments