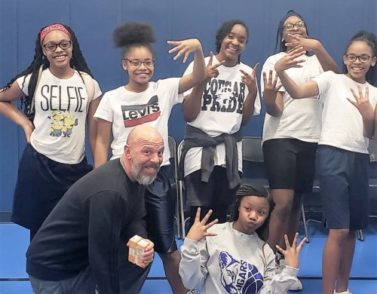 Longtime Countryside Academy Athletic Director Derek Nestich died unexpectedly at the age of 49, the Benton Harbor-based school announced Wednesday.
The following is a letter written by Countryside Lead Administrator Sarah Brookshire:
"Countryside Academy is saddened to announce the sudden death of longtime athletic director, coach, and physical education teacher, Derek Nestich. Derek was employed at the academy for 23 years and until this time has been the sole athletic director. Derek built the academy's athletic program from the ground up, starting with basketball, track, football, cheerleading, volleyball, wrestling, soccer, baseball, and softball. For several years he organized a 5K run on the school's nature trail.

During his career, he touched many lives. Derek was always able to make special connections with anyone who walked through our doors, whether it be a student, parent, staff member, or guest. Returning alumni would always request to see him when they visit, and even though he taught here for 23 years, he would have no difficulty remembering everyone.

"When Derek wasn't in the gym he could be found fishing, birdwatching, or running around with the neighborhood dogs or better known as "the pack". Derek had a love for anything involving nature. Derek could tell you the name of any bird or fish and was so proud of the fish he caught. He was so proud of one fish this year that he brought it to school to show off in his cooler. He recently found a love for photography in which he masterly captured the world with a very unique eye all while using an iPhone.

As a fellow coworker, Derek would do anything that he could to make Countryside a better place for all who called it home. As an educator, he changed many lives for the better. As a friend, there are few more caring, considerate, or generous than he.

Derek Nestich will be missed and the loss will forever reverberate across the thousands of lives he has touched during his time spent at the Academy. He leaves behind a wife Jodi and a daughter Lily."
Former students also took to Facebook to express their sadness.
"There is no explaining on how much this one hurts," Carolyn Deneau said. "A coach, advisor, friend, and supporter. He watched me grow up and helped build my confidence, encouraged me to become a better athlete and get out of my comfort zone. …  You showed so much love to me and my brothers and we all appreciated it. You were like a second father to us."
To see Deneau's full post, as well as other tributes,
click here
.
(Photos via Derek Nestich Facebook, Shawanda Lanece Facebook)
Comments