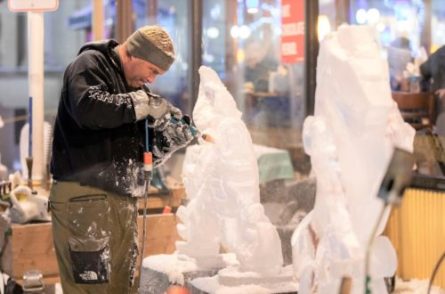 So far, this winter has been bleak and gray – but a reprieve is on its way.
The St. Joseph Ice Festival is set to return to downtown Feb. 3-5 with ice carving competitions, dozens of ice artists and several new interactive displays.
"If you need a cure for the winter blues, this is it," said Amy Zapal, executive director at St. Joe Today.
The festivities begin Friday with the Professional Individual Carving Competition along Pleasant St. from 5 to 8 p.m. As the ice carving competition wraps up that evening, attendees can marvel at the glimmer and glow of the Fire & Ice Tower at 8 p.m. on the corner of State Street and Pleasant.
All weekend long, visitors can participate in the Scavenger Hunt. Stop in the St. Joe Today Welcome Center at 301 State Street, to grab a map. Completing the hunt puts participants in the running for a $25 St. Joe Today gift certificate, good at over 100 participating member locations.
Attendees can also enjoy Ice Interactives on Saturday from 11 a.m. to 4 p.m. interactive ice displays include:
Frozen Fish Toss
Ice Tic-Tac-Toe
Ice Bowling
Magical Ice Throne
Hole in One Putt Putt Golf (new)
Ice Skee Ball (new)
Ice Piggy Bank (new)
Additional Saturday fun includes the Magic Tour with magician John Dudley. For more information on Ice Fest, visit stjoetoday.com/icefest.
(Photo courtesy St. Joseph Today)
Comments