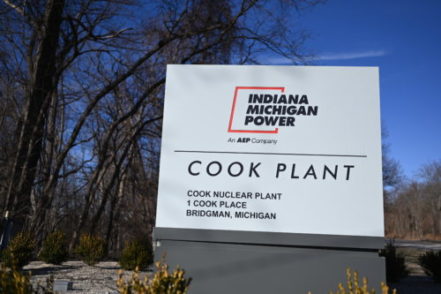 Unlike the recently closed Palisades nuclear plant near Covert, Michigan, the Cook Nuclear Plant at Bridgman is running strong and likely to ask for another 20-year license renewal.
Their primary role is to protect the health and safety of the public. Second to that is to generate electricity – a LOT of it. That's the view of Shane Lies, the Chief Nuclear Officer at Cook Nuclear Plant in Bridgman. Lies took the helm at Cook nearly a year ago. The plant generates enough electricity to power 1.5 million homes. The licenses to operate start expiring in 2034. That's relatively soon in terms of the nuclear relicensing process.
In addition to time-consuming, subsequent license renewal is also costly – about $50 million dollars. Lies says that cost that will have to be shared with all who benefit. As for Palisades, Lies wouldn't talk about current efforts there to reopen, but he indicated restarting a shuttered nuclear plant would be a first.
Looking to the future, Lies says small, modular reactors will be more common, but their size limits the output. He expects to see them first in communities outside of Michigan, in places that are currently reliant on coal.
See the video below to hear Lies talk about why nuclear energy has been a major portion of the energy mix in our region and the United States, and his views on why it will continue to be a power player in the future.
Comments