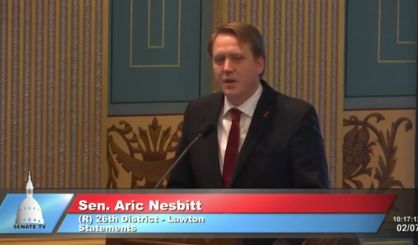 After Michigan Senate Democrats proceeded with repealing the state's Right to Work law this week, they moved right into a vote to reinstate the state's prevailing wage law. Speaking out against both moves was state Senator Aric Nesbitt, who tells us prevailing wage means construction workers on public projects will have to be paid union wages.
"Their vote on reinstating prevailing wage is a cumbersome mandate on higher prices for taxpayer-funded construction projects that will increase prices from 20 to 30%," Nesbitt said. "That will means less highways being paved, less schools being built."
Nesbitt says he hears from local organizations concerned about the effects of the change.
"I hear from schools, local governments, community colleges, folks who are very concerned about having to pay more for less work or the same amount of work. We're going to see the same thing with roads with the mandates that are there."
Nesbitt says Michigan at least could have made an exception for schools, like they did in Ohio. He proposed an amendment Tuesday to the Right to Work repeal that would have exempted businesses with less than 50 employees, but it was shot down. Nesbitt tells us the state is headed back in the wrong direction.
Comments