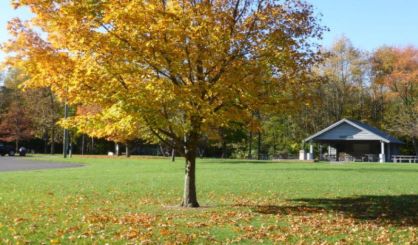 Berrien County has completed the purchase of land in Niles Township next to Madeline Bertrand County Park, expanding the 121 acre park by 32 acres. The county used a $300,000 state grant to make the purchase for a total of $425,000. Berrien County Parks Director Jill Adams tells us the land belonged to the Helmen/Simpson family.
"The current owners – there were ten of them on the deed – and they grew up going out to their grandparents' house and farm out there on the property," Adams said. "They had great memories of their time in nature and all the adventures they got into. I'm sure it was a tough decision for them, but they thought it would be a great piece of property if it went to the public and was in the public domain in perpetuity."
The Helmen/Simpson family acquired the property in 1937, naming it Possum Poke. The family sold it to the county for less than its value, donating $275,000 in land value to the county. Adams says it will take some time to draft plans for the land, but it could be used for an expanded disc golf course, hiking and skiing trails, and river access. She says the acquisition has been a long time in the making, and the property's former owners showed great patience as the process continued.
Comments