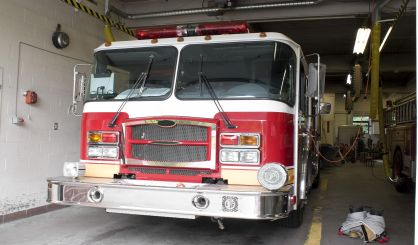 Zach Kenreich as a high school student decided he wanted a career that would serve his community.
While attending South Haven High School he enrolled in the Emergency Medical Technician (EMT) course at the Van Buren Tech Center. He was certified by the time he graduated from high school.
He immediately joined South Haven Area Emergency Services (SHAES) as a paid-on-call firefighter. Three years later (2017) he became a career member in the department.
Today the 26-year-old Firefighter/Paramedic is the department's 2023 Firefighter of the Year. He was recognized at the department's annual banquet on May 6.
"The idea of graduating from high school with an (EMT) license was very appealing," admits Kenreich. "More important to me was the idea of serving my community."
The Firefighter of the Year is determined by a vote of the membership.
"Although our members vote for this nomination, it is not a popularity contest," notes SHAES Executive Director Brandon Hinz. "Zach is being recognized for his dedication, compassion and desire for learning. He understands that teamwork is a huge part of this organization."
Kenreich is responsible for much of the management of the department's technology, including the budget and capital equipment oversight. He has also led an effort to secure equipment for confined space rescues, securing funding from local sources.
The recipient of this year's Leadership Award is Phillip Quinn, a paid-on-call member since 2010.
"Phillip has been a steady responder who is always there. Even with increased commitments at his regular employment and family, he's remained an active member that is much appreciated given everyone's busy schedules outside the fire department. He's never required a pat on the back, glory or fame, he comes when he's called, does his job, and goes home with a good attitude."
The department honored members for years of service – Keith Bierhalter, 40 years; Brian Montgomery and Dawn Hinz, 15 years; Zach Church, 10 years. South Haven Mayor Scott Smith was recognized for his five years as a member of the SHAES governing board.
Several members were recognized for professional achievements: Corey Capel, Fire Instructor I; Owen Ridley, Shawn Smith and Timothy Forker, Fire Instructor 2; Paul Quinn, Fire Inspector; Jordan Walthall, EMT Basic; Maggie Murrillo, EMR; Brian Horan, Jr., Fire Officer 2; and Jazmin Cortez and Zach Hanners, Rescue Diver.
Joining the department as paid-on-call candidates over the past year are Dawn Nyhof, Shelby Forker, Lilly Nyhof and Dalton Wolfe. New career members (Firefighter/Paramedic) are Johanna Quinn and Corey Capel. Shawn Smith was promoted to the newly created position as Training Officer.
"Throughout the history of SHAES and the former Casco and South Haven fire departments, we have prided ourselves on compassionate care for our EMS patients, quick response and aggressive fire suppression. Our members have always gone the additional step, to do that extra. Our community and residents expect the best and our goal year in and year out is to do just that," said Hinz.