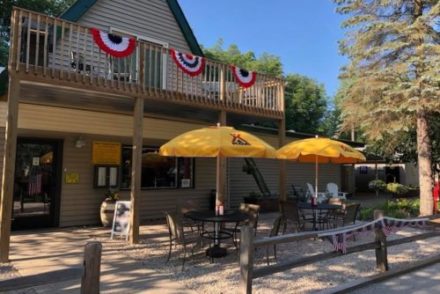 Getting a taste of southwest Michigan gets a whole lot easier for guests at the Coloma/St. Joseph KOA Holiday, as they announce the availability of local craft beers and wines for sale at their campground General Store.
"Bringing families and friends together around a campfire is what we do better than anyone," said Mark Lemoine, owner of Fifth Level Hospitality, Inc., which operates the campground. "Responsibly enjoying a local craft beer or wine can make that exceptional experience even more
relaxing."
Their offerings will feature select craft beers and wines that showcase the industry in southwest Michigan. Lemoine made selections for his guests that will appeal to a wide palette of tastes, and which also captures an outdoor vibe.
"As the micro brew and even the winery industries in the state of Michigan have grown, we've really begun to see across the state the real the social dynamics that occur as people gather and enjoy those products," Lemoine said. "Our campground is the quintessential example of gathering and enjoying time with friends and family sitting around a campfire. And so we were looking for breweries and wineries that are not only in southwest Michigan, but also have a great outdoor vibe to them – with cool names that everybody could resonate with. Even the label are factored into our decision."
The craft beers include:
The local wines include:
Beach Cottage White, Beach Cottage Red, and South Pier Niagara White by 12 Corners
Vineyards in Benton Harbor.
Starry Starry White, Devil's Head Red, and Watusi Red by Karma Vista Vineyards in
Coloma.
Michcato, S'more, and Lemonade Sangria by St. Julian Winery in Paw Paw.
"We think these products are going to sell well," Lemoine said. "Many of our guests, they're already enjoying those products and now we just make it a little easier for them to either get, look forward to the opportunity to introduce them to what they can find here in Michigan's great Southwest."
Fifth Level Hospitality, Inc. is locally-owned and operated by Mark and Karla Lemoine and is doing business as the Coloma/St. Joseph KOA Holiday. They are franchisees of Kampgrounds of America, Inc.,(KOA) the largest outdoor hospitality organization in the world.
Located in Hagar Township, this southwest Michigan campground is the closest KOA to Lake Michigan and offers guests 128 sites for tents, RVs, camping cabins, deluxe cabins and "glamping" tents. Amenities include an in-ground heated pool, jumping pillow, mini-golf, mining sluice, fun bike rentals, hammock haven, wooded nature trail, and the Campfire Café' featuring espresso coffees, Hunt Brothers pizza and wings, Sherman's Ice Cream and more.
For info/ reservations, visit stjosephkoa.com.
Comments