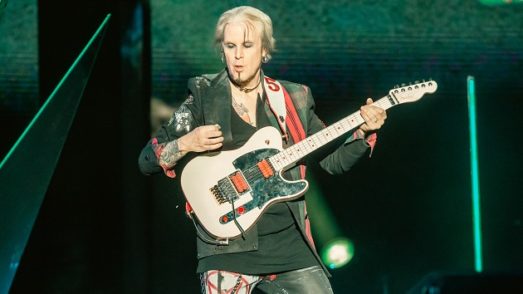 Former Rob Zombie and current Mötley Crüe guitarist John 5 has announced a new signature guitar with Fender.
The John 5 Ghost Telecaster comes in an arctic white finish with red accents, and costs $2,999.99.
"I've played Telecasters my whole life and getting to design my own is a dream come true," John 5 says. "When it came to design, I was inspired by some of Fender's previous collaborations, but sought to create a model that would be both visually stunning and comfortable to play. Fender helped me design a Telecaster that was different from anything else on the market and the easy-to-play all-white fretboard and unique pickguard is proof of that."
Along with the Tele, Fender has released a line of John 5-themed accessories, including a guitar strap, picks and cables.
"The leather strap and cable match the guitar's white aesthetic and the pick visuals are absolutely killer!" John 5 says.
For more info, visit Fender.com.
John 5 is currently shredding on Mötley Crüe's European tour with Def Leppard. The run comes to the U.S. in August.
Copyright © 2023, ABC Audio. All rights reserved.