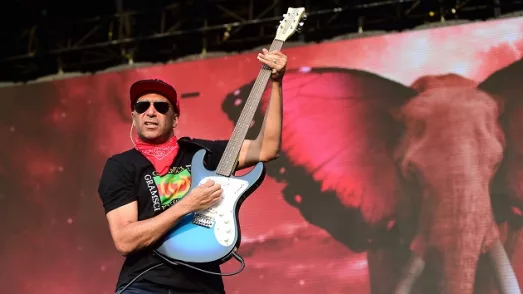 Count Tom Morello among those surprised Olivia Rodrigo is a Rage Against the Machine fan.
Sharing Rodrigo's quote from a recent Rolling Stone interview about how Rage is her "favorite band right now," the "Killing in the Name" shredder writes on Twitter, "Who would have guessed?"
In the Rolling Stone piece, Rodrigo also mentioned wanting to see Rage get inducted into the Rock & Roll Hall of Fame on November 3, but she's unable to go due "some immovable schedule conflict."
"I am literally going to cry myself to sleep about it," she said.
If you're hoping this interaction leads to some kind of Rage/Rodrigo collaboration, we actually have something of a preview of what that might sound like. Back in 2021, Morello shared a video of himself shredding an original solo over Rodrigo's single "good 4 u."
Rodrigo, meanwhile, just announced a 2024 tour in support of her new album, GUTS, which will feature another '90s band, The Breeders, on the bill for select dates.
Copyright © 2023, ABC Audio. All rights reserved.