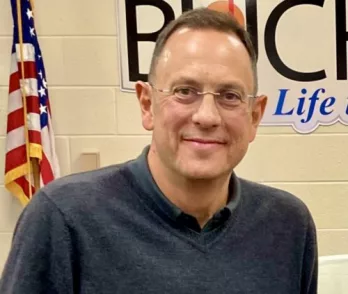 Buchanan Mayor Sean Denison has issued an open letter to the community amid controversy over the suspension of the city manager and other issues.
In the message posted to social media, Denison says rumors of a possible state takeover of Buchanan are not true. He says the city has not been contacted by the state for such a reason.
Denison then goes on to explain some of the financial challenges faced by Buchanan as revenue sharing from the state has gone down. He pointed to major projects like the new wastewater treatment plant and DPW building that the city must pay off in large sums each year.
Denison writes, "If you want to see Buchanan be the best it can be, call your county commissioner. Call your state representative. Call your state senator. Call the governor. Tell your state legislators to reinstate revenue sharing." He also calls for a better way for municipalities to tax marijuana businesses.
Denison says the city has taken steps to reduce spending, like suspending the Thrill on the Hill, but there's only so much it can do.
He also writes that he's received messages in the past week that come close to being threats, and "they made one thing very clear to me – just how uninformed a large portion of our community is, and how much they have not been paying attention." He asks everyone to stop spreading rumors.
He does not address the city manager situation.
Below is the mayor's full letter:
Many of you have heard through social media that the city is facing a state takeover due to bad financial decisions, corruption, or some form of financial impropriety. I am here to tell you as Mayor:

The City of Buchanan has not been contacted by the state concerning any such thing. That story is misinformation and unequivocally untrue. I would like to update you on where the city stands on a few things, and how our financial future is a challenging one.

The city collects property taxes to help pay for city operations, but much of what you pay as a taxpayer does not stay here in the city. Only roughly 35% of the property tax collected from you goes toward city operations. A little over 1/3. The City will collect $1.69 million for itself this year – in comparison, you will pay $1.37 million for the combination of state education taxes and our school operating budget. I don't say that to shame the schools in any way but to try and make clear how little the city is actually generating in property tax revenue.

In the past, there were ways the state helped provide revenue to our community. One of those ways was by way of something called revenue sharing. These funds came from sales taxes, and they were relied on by small municipalities like ours to be able to do things like paving roads, making infrastructure repairs, and things of that nature. In 1996, reductions in revenue-sharing allocations were made by the Michigan Legislature, meaning they started sharing less money with communities like ours. In 2011, the Governor then reduced revenue sharing again. By another 33%. From 2001 – 2018, there has been a shortfall in statutory allocations to cities, villages, and counties of $8.6 billion. This is a significant loss of revenue to the city that was used for infrastructure repair and maintenance. This is very important.

At the same time that Lansing has reduced allocations of funding, they have mandated certain things – meaning they have said "We are making a rule that you have to do "this", you are responsible for doing and funding this, and if you don't you will be penalized" for example – Lead service lines for water. Lansing has mandated that we are responsible for changing out every lead service line in our water system. There are hundreds of them. So, we have to include in our budget every year, digging up and replacing these lines at the city's expense. This is just one example of mandates the State has sent down – but put that on top of reduced revenue sharing and things start getting serious.

When Clark shut down in the 1980's, this town was devastated – I think we all know that. For whatever reason, since the 1980's – planning for future upgrades, making necessary updates, and maintaining our infrastructure have been neglected. All of our buildings, water and sewer pipes – everything – are old. They are in disrepair.  There is a great deal of things that need to be replaced.

Some of our existing pipes in the downtown are 100 years old. They only had a 50–70-year life span when they were installed. Meaning they should have been replaced 30 years ago. In 2018 we received a grant – it was called a SAW grant, and its purpose was to inspect our water/sewer infrastructure to see what maintenance was needed. It sent cameras throughout our entire city's water and sewer pipes. After the engineers studied their findings, we were told that to do the work that needed to be done throughout the city, the cost would be $70 million. We have whittled that work down to focus on the absolute most critical part of our system. That is what the downtown infrastructure project that you have heard about is all about. I will come back to that.

Just a few short years ago, the city invested in a new, state-of-the-art oxidation ditch – commonly referred to as our wastewater plant. The cost for that was $9 million. Obviously, we didn't have, and don't have that kind of money. So, we have to borrow money through bonds to pay for a project like that. This year our bond payment for the oxidation ditch is somewhere in the area of $240,000. Because of the way the repayment is structured, our payments continue to get higher every year. In 7-10 years, our payments for the oxidation ditch will balloon to $800,000 per year.

At the same time, we recently started on a new, replacement DPW building to house the millions of dollars' worth of equipment used by the city to maintain our streets and roads. That entire project is in the neighborhood of $5 million. Same story – we have to borrow the money to pay for it, and then we have to make payments every year to repay the loan. Now we are planning for the downtown infrastructure project. We have asked the designers and engineers of that project multiple times to remove things, to redesign things, and to try to reduce the cost of the project. Because of the current economic environment, and the sharp rise in labor and construction material costs, that project cost has risen by 30% just in the last 2-3 years. So, what was a $9 million project, is now a $12 million project. Not making those necessary repairs is not an option. It is vital to keep our drinking water safe and to ensure your ability to flush your toilets, do laundry, and take showers.

The other thing I hear frequently is questions concerning marijuana revenues, and why that money can't be used to fix our streets, update our parks, make infrastructure improvements, etc. The honest answer is we don't earn enough marijuana excise tax revenue to have an immediate impact on one project. Because of the cost of park equipment, because of the cost of construction materials and labor, it takes a few years of earning those marijuana revenues to be able to save enough money to do a project. We have only received those funds for 2 or 3 years now. The first year's revenue was very small because all of the dispensaries were not operating, and the third year's revenues were smaller than the previous years, because, as usual – Lansing took their share first, and decided they wanted more of it.

I beg you if you are as frustrated as I am. If you want to see Buchanan be the best it can be… Call your County Commissioner. Call your State Representative. Call your State Senator. Call the Governor. Tell your state legislators to reinstate revenue sharing. Tell them to pass legislation that would allow our local unit of government to add a 1% tax to retail marijuana sales. Tell your county commissioners to spend the money that they receive for marijuana excise tax in the communities that are actually enabling them to receive those funds.

We have been searching for ways to find other sources of revenue without raising taxes, and this commission has implemented policy aimed at reducing costs and finding new ways to do things and we have even suspended some events, like Thrill on the Hill. But we also need to continue looking to the future and planning for other upgrades and repairs not only to ensure we keep the city operating efficiently but to also invest in expanding our quality-of-life initiatives, like the pavilion at Victory Park, the McCoy Creek Trail expansion, The River Access, and other endeavors.

On top of all of that, we understand the importance of keeping Buchanan affordable enough for people to live here. I hope that you can understand – It is a difficult job.

Over the past week, I am sad to say that I have received some emails that were on the verge of threatening, but mostly harassing in nature. They accused this commission and myself of corruption and unethical behavior. And they made one thing very clear to me – just how uninformed a large portion of our community is, and how much they have not been paying attention.

Since taking office I have worked very hard to remove the "Good ol' Boy Network" stigma from city hall. This commission has made it clear that we want to provide an environment of trust, transparency, and teamwork. We are so committed to doing that, that we implemented an ethics ordinance requiring the highest ethical standards for city employees, administration, and staff. The only "Good 'ol Boy Network" is the network of people – and it's always the same people – who are continuously pitching in and showing up to help the community grow. The Jerry Flenars, the Randy Hendrixsons, the Tracy Dippos, The Ralph McDonalds, The Peter Lysys, and a long list of dedicated volunteers.  You can be a part of that network too. Pitch in. Show up.

The people who work for this city are good people. Doing good work. All of them. They do not deserve to be publicly disgraced by way of social media or any other means. If you participated in spreading misinformation and making accusations based on hearsay – you should be ashamed of yourself.

I know I speak for my fellow commissioners when I say: This is your city hall, it is here for you. Doing work for you. There are no secrets. We have open books, and we are currently working to be able to give our citizens access to city financials online.

If you have questions concerning something you may not understand, please reach out. I will do my best to explain it, or I will find someone who can.

Thank you,

Sean Denison

Mayor
Mayor Sean Denison invites any citizen of Buchanan who has additional questions or feedback to contact him directly at sdenison@cityofbuchanan.com.