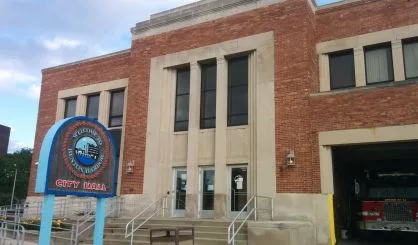 The Renaissance Athletic Club in Benton Harbor has been granted a tax break by the city as the club seeks to make $430,000 in improvements to its facility on Graham Avenue.
At a Monday meeting, Benton Harbor City Commissioners gave final approval to a Commercial Rehabilitation Tax Exemption for the club to have its taxable value frozen for ten years so it can recoup some of the improvement costs. During a public hearing, Commissioner Juanita Henry wanted to know how the project will directly benefit residents.
"You're in a community that is lacking jobs," Henry said. "You say that you're going to hire some more people. My question is are there Benton Harbor residents working for you now? What kind of jobs are going to come from this improvement?"
The club's Laura McCoy said the business currently employs 56 people and more than half live in Benton Harbor. The expansion will add four more jobs, including two trainers and front desk staff.
Mayor Marcus Muhammad said this tax break won't mean the club pays no taxes at all.
"Not only are you paying property taxes, you're paying income tax on 56-plus employees, and the tax exemption is not to eliminate the tax, it's to freeze it where it currently is," Muhammad said.
Cornerstone Alliance's Greg Vaughn told commissioners the club has been in the community for ten years, proving it's a valuable asset. Commissioners then approved the exemption during their regular meeting without further comment.
The project at the club will mean new flooring, updated plumbing and shower fixtures, new cold tubs, remodeled spa areas, and parking lot asphalt rejuvenation. The facility will stay open while work takes place.