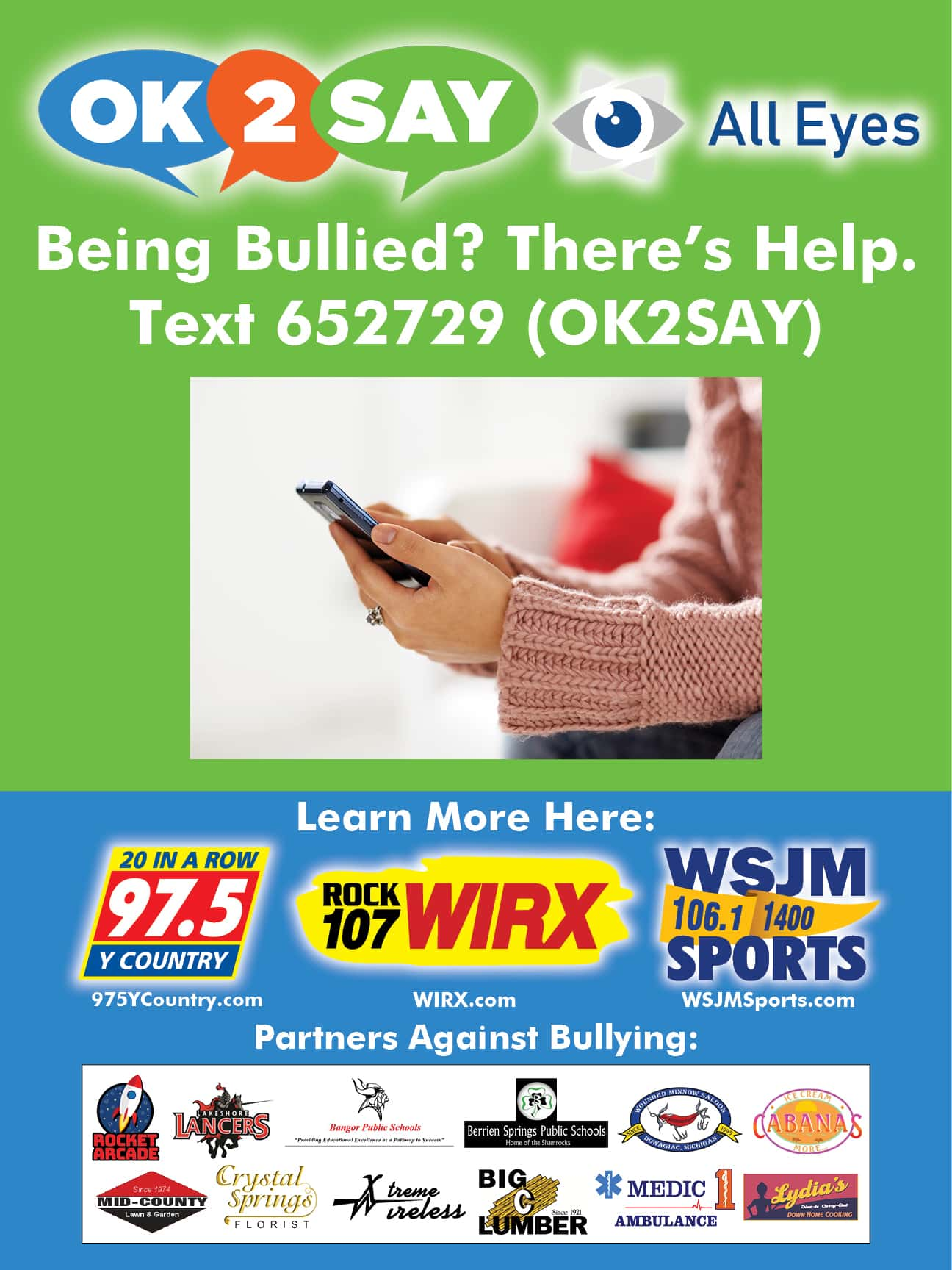 ---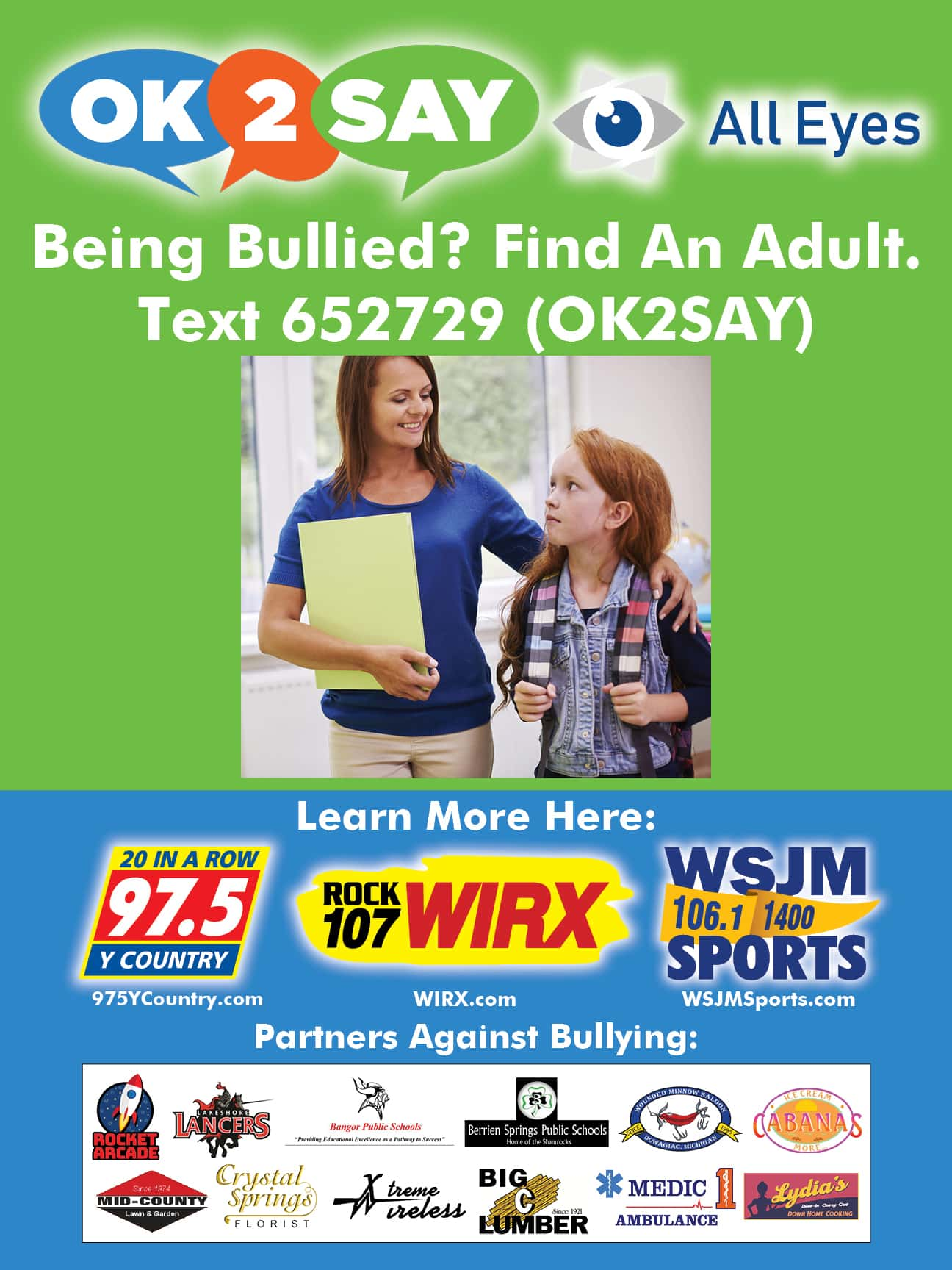 ---
What is OK2Say?
OK2SAY is a program designed to empower Michigan students, parents, school personnel, community mental health service programs, and law enforcement to share and respond to student safety threats. The goal of OK2SAY is to stop harmful behavior before it occurs by encouraging anyone to report threatening behavior to caring adult authorities who can help. OK2SAY  encourages Michigan residents to confidentially submit tips 24/7 using the OK2SAY mobile app, online, email, texting, or by calling trained program technicians. Upon receipt of a tip, specially trained OK2SAY technicians address the immediate need and forward the information to the appropriate responding law enforcement agency or organization. Tips go to schools, local law enforcement agencies, community mental health agencies or the Michigan Department of Health and Human Services.
How to report a tip or information on someone who is being bullied:
Call! 8-555-OK2SAY (855-565-2729)
Text! 652729 (OK2SAY)
Signs that your child might bully others
They refuse to take responsibility for their actions.
They lack empathy.
They need to be in control.
They have been victims of bullying.
They are proud and/or arrogant.
Positive views towards violence
Often aggressive towards parents, teachers and other adults
Hot tempered, impulsive and easily frustrates
Often tests limits, boundaries and breaks rules
Good at talking their way of difficult and tense situations
Show little sympathy towards others who are bulled
Signs You're a Bully:
You try to embarrass people in public
You're MAD insecure (and sensitive)
Your victims are always people who won't fight back
Confrontation is your best friend
You're irrational
Online social interaction: you write things online about someone that you wouldn't say in person.
Signs a Child is Being Bullied
Unexplainable injuries
Lost or destroyed clothing, books, electronics, or jewelry
Frequent headaches or stomach aches, feeling sick or faking illness
Changes in eating habits, like suddenly skipping meals or binge eating. Kids may come home from school hungry because they did not eat lunch.
Difficulty sleeping or frequent nightmares
Declining grades, loss of interest in schoolwork, or not wanting to go to school
Sudden loss of friends or avoidance of social situations
Feelings of helplessness or decreased self esteem
Self-destructive behaviors such as running away from home, harming themselves, or talking about suicide
According to the: Youth Risk Behavior Survey:
•1 out of 4 Michigan students have been bullied on school property
•1 out of 5 Michigan students have been cyberbullied
•1 out of 6 Michigan students have carried a weapon (gun/knife)
•1 out of 17 Michigan students didn't go to school because they felt they'd be unsafe at school or en route to school
•1 out of 15 Michigan students had been threated/injured with a weapon on school property
•1 out of 5  Michigan students have been in a physical fight
•1 out of 6 Michigan students have seriously considered suicide
•1 out of 7 Michigan students have made a plan about how to attempt suicide
•1 out of 11 Michigan students have actually attempted suicide