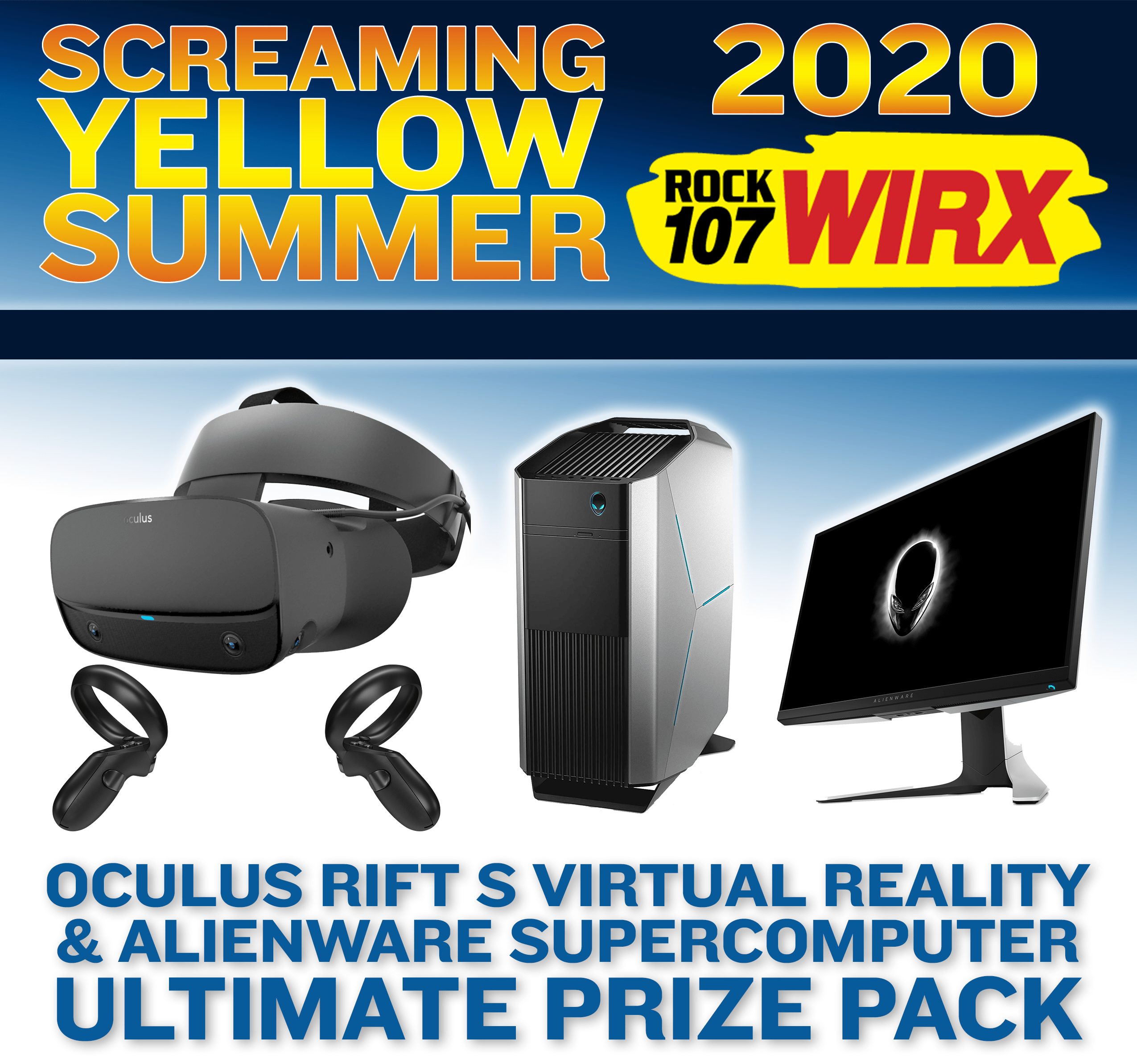 Screaming Yellow Summer Goes VIRTUAL! A quarter of Americans are gaming MORE right now!  84% of the WIRX Listenership would LOVE to win this awesome PREMIERE, TOP OF THE LINE prize pack! And you can help make it happen!
A maximum of 8 co-sponsors will be invited to be part of the VIRTUAL giveaway for an OCULUS RIFT VIRTUAL REALITY + ALIENWARE SUPER COMPUTER prize package, featuring an epic ACCESSORY PACK with MAGNI-STOCK controller and at least two games of your choice! Make the most of the indoors with epic games, virtual travel, and movie theater experiences with friends!
All summer long, we'll allow listeners to register during virtual contest & broadcast dates that each of our sponsors choose. One qualifier will be chosen from each date and come together virtually at the end of the summer to see who will win!
---
Each co-sponsor will receive 6 opportunities all summer long to schedule your virtual broadcast date with a virtual contest entry at wirx.com. Your broadcast date includes an online entry point for the contest available to listeners from 9am-5pm, and a virtual & on-air remote broadcast for two hours during the contest! During your individual contest dates, we will drive traffic to wirx.com to encourage listeners to enter to win from 9-5 only (while they work at home)! On the air, we'll interview you twice an hour over two hours to encourage listeners to enter to win, and to find out more about your business. As an added bonus, we will also produce a 5 minute ZOOM Video interview with you, and post it on our Facebook and Instagram pages!
The only way listeners can win the Virtual Prize Package is by registering during your broadcast date, where you'll get to collect valuable marketing data to be used for your business, such as newsletter mailing list opt-ins, lead generation, consumer surveys, or driving traffic to your social media or videos for every person that enters!

As one of our 8 co-sponsors, you will receive:
Six virtual contests & broadcasts during dates of your choosing from June 15 through September 9. Contest runs 9am-5pm and two-hour broadcast must run sometime inside that contest window. The broadcast will be recorded, edited and aired in 1:30 minute breaks twice per hour for two hours with a WIRX talent interviewing you or your employees virtually. You will also receive a five minute Zoom video interview to be recorded and premiered on the WIRX Facebook page the same day as your contest/broadcast

Six Facebook/Instagram ads that will drive traffic to your six contest dates, and feature your virtual video interview and a call-to-action to register to win the contest

A maximum of three contest "hoops" for listeners to complete when they enter to win online. This can include asking for newsletter opt-ins, generating leads for your business, driving traffic/likes/follows to your social media accounts, watching a video, downloading an app, opting-in to text campaigns, or visiting a website address

200 :60 commercials, 24-hour plan, to be used on WIRX before the end of September 2020

A dashboard billboard that appears on your vehicle's radio display with your business tagline to coincide with your commercials

Mention in a minimum of 500 recorded or live on-air and streaming promos on WIRX

A guaranteed qualifier from each virtual contest/broadcast date

Your business and contest dates listed at wirx.com and screamingyellowsummer.com with logo prominently displayed, and a clickthrough link to your website

Your business included in ROCK BAND email and social media updates that blast out each day to our audience, identifying your contest/broadcast date and time and the link to register

Recognition at the giveaway party virtually or in-person the weekend of September 19 as we give the prize package away
Interested? Let your Mid-West Family Rep know right now!