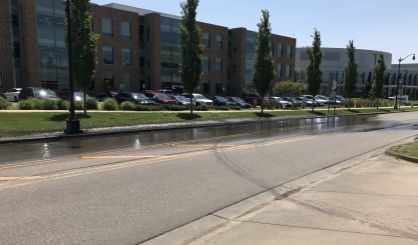 Main Street is closed once again in Benton Harbor at Riverview Drive, right in front of Whirlpool's Riverview campus due to flooding. The Michigan Department of Transportation's Nick Schirripa says the problem is still the high water level of Lake Michigan and the St. Joseph River, as the water is currently higher than the road. He says that stretch of the I-94 Business Loop and Main Street will likely be closed for a few days this time around.
"We're trying to discourage people from using Whirlpool's parking lot," Schirripa tells WSJM News. "Obviously that's illegal, and Whirlpool has been in contact with both us and local police to hopefully cut down on that behavior."
A detour has been posted to get drivers around that area, and anyone who needs to go between Benton Harbor and St. Joseph should use the M-63 Blossomland Bridge for the time being.
Stock image of the location in Benton Harbor from July 2019