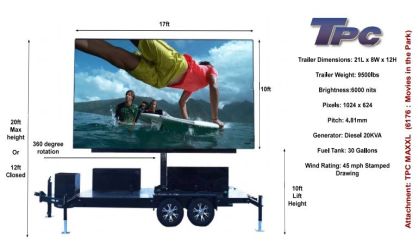 The city of St. Joseph will use a new format for its Movies in the Park program this summer. The city commission on Monday approved a plan from the public works department to hold drive-in movies throughout the summer. Deputy Public Works Director Greg Grothous tells WSJM News the city will work with TPC Technologies of Niles to make it happen.
"They recently just purchased a new LCD screen that's on a trailer," Grothous said. "It's much larger. The bottom of the screen is ten feet off the ground, and the top of the screen is about 20 feet in the air. We could use it in a large parking lot, we could park cars, and everybody should be able to view the screen without any obstructions."
Grothous says the sound will be transmitted to the cars via FM radio. The lineup for the summer will include Pets 2, Abominable, The Sandlot, Frozen 2, The Lion King 2019, Toy Story 4, The Greatest Showman, and Hook. The first screening will be on July 11 starting at 8:30 with Pets 2. The drive-in screenings will continue through August 29. Grothous says the city is working now to secure a large parking lot where the screenings can be held, but he couldn't yet say which large parking lot.