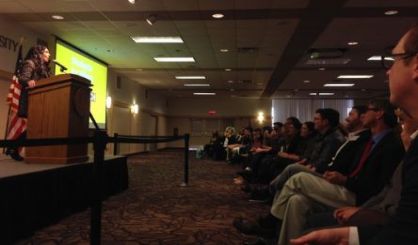 Pop superstar Cher visited Michigan on Monday to campaign for Hillary Clinton. She started the day at Western Michigan University in Kalamazoo. The 70-year-old Cher was tasked with appealing to millennials.
"I want you guys to have a better life," Cher said. "I want you guys to have what I had, which is infinite possibilities."
Cher also took shots at Donald Trump, getting some laughs from the crowd. It was one of six scheduled campaign stops for the pop legend on Monday. She was also slated to speak to students on the campus of Michigan State University and at a Democratic fundraiser in Bloomfield Hills.
Photo courtesy of our reporting partners at WKZO.