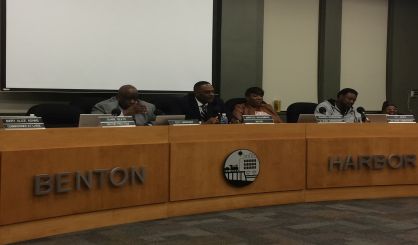 A plan that would have effectively prohibited medical marijuana dispensaries in the city of Benton Harbor has been rejected by commissioners. Tuesday night, they shot down an amendment to the zoning ordinance that would have kept the businesses away. City Manager Darwin Watson tells WSJM News doing so could have prevented headaches when it comes to crime due to the banking rules with medical marijuana.
"They are not allowing a person who is going to obtain it to do as with a debit card or a credit card," Watson said. "It has to be cash. So, what you end up having is a depository of a lot of cash, but you also have a lot of people coming to this facility with a lot of cash."
Watson said other regulatory questions about the state's medical marijuana law are also a problem. Mayor Marcus Muhammad was the only one to vote yes on the amendment to prohibit dispensaries from the commercial district.
"With all of the drug problems that we have, I'm not open to soliciting businesses to come and sell drugs," Muhammad said.
Commissioner Sharon Henderson did vote no on the amendment, but later said she did so by mistake. Either way, the ban came up far short of passage. Currently, someone seeking to open a dispensary has to get a special use permit, which requires the city commission's approval. Commissioners may reopen the dispensary amendment discussion later and send it to committee for additional review.