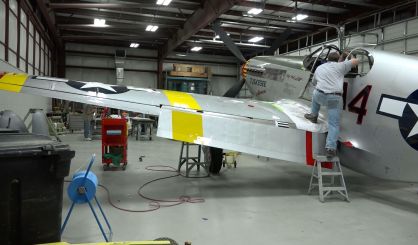 Set to take off from the Southwest Michigan Regional Airport this Wednesday is an authentic World War II-era fighter plane. Specifically, a refurbished P-51 Mustang, the kind flown by the Tuskegee Airmen, will head out for a tour of the country. Pilot Alan Miller told WSJM News they hit up airshows to talk World War II.
"We enjoy telling the story about what these men did during the war so we can teach a younger generation about it," Miller said.
Miller is an airline pilot who says this World War II equipment is a whole lot different.
"There's essentially no comparison," Miller said. "Flying for the airline does nothing for preparing you to fly something like this,"
Miller says it's an honor to get to fly a fabled P-51 Mustang. Flying Colors Aviation, of Benton Harbor, helped to get the Mustang ready.