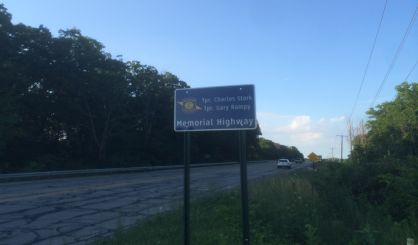 Red Arrow Highway between US-12 and Union Pier has now officially been dedicated as the Trooper Charles Stark and Trooper Gary Rampy Memorial Highway. That's after Berrien County Commissioners approved a resolution Thursday stating as much. Commissioner Ezra Scott helped to usher through the move to honor the two Michigan State Police troopers who were shot and killed by a drunk driving suspect the night of December 31, 1971. He told WSJM News it took loo long.
"I knew them well," Scott said. "They were good people. It was a tragic, tragic thing that happened, and I promised both families that if I got elected as county commissioner, I would do something about this."
Scott presented signs to family of Rampy at the meeting. They match the signs that are now posted along the road.