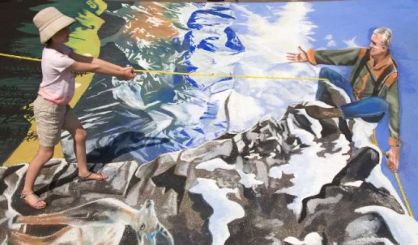 It'll be a busy weekend in downtown St. Joseph. They're holding the annual Chalk the Block event, featuring artists from all over drawing right on the sidewalks. St. Joe Today's Daniele Crevier tells WSJM News they'll be there all weekend.
"We're actually starting on Friday evening, or giving them the option to start on Friday evening this year, and they've got Friday, Saturday, and part of Sunday morning to create a piece of artwork on Broad Street in downtown St. Joe," Crevier said.
You're likely to be impressed by some of the art.
"We've seen a lot of 3D art in the last couple of years, which is really exciting to see," Crevier said. "It's really about what's inspiring artists at the moment."
The chalk art isn't all that's going on. There will also be sidewalk sales, artist workshops, lighthouse tours, walking tours, the farmer's market, and a Friday night concert at the Howard Bandshell. Crevier tells us it'll fun for the whole family. You can find the schedule at StJoeToday.com.