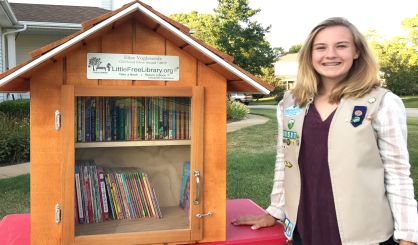 A St. Joseph Girl Scout is making good in the community by encouraging young people to read. Elise Voglewede is about to enter the ninth grade at St. Joe High School, and she's built a Little Free Library as she pursues a Girl Scout Silver Award. Elise tells WSJM News her Little Free Library will be stationed outside of E.P. Clarke Elementary School in St. Joseph starting on September 12.
"I chose there because there are a lot of kids who go there every day," Voglewede said. "It's a great place to put the library so it can be utilized by all kids and it's on their way so they don't have to make an extra trip out of their way. They can just go right where they go every day."
Elise tells us she has the permission of the principal of E.P. Clarke and St. Joseph Schools Superintendent Ann Cardon. The Silver Award is the second highest honor the Girl Scouts give out. Elise and at least one other Girl Scout will be honored for their accomplishments at Lake Michigan College in November. She got help in building her Little Free Library from Ace Hardware and Barton Boatworks. A Little Free Library is a sort of drop box anyone can open to pick up or drop off a book. Elise will start installing this one around September 10.