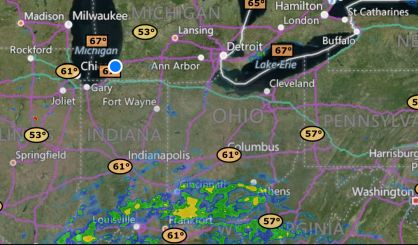 There is a little bit of rain in our forecast for tomorrow, and what will fall is the last remnants of Hurricane Irma.
"We're going to get some rain, no doubt about it," says NewsCenter 16 meteorologist David Harker. "I'd say less than a tenth of an inch of rain, and most areas will be less than that."
He adds we won't see strong winds that accompanied the storm as it roared ashore and moved northward from Florida.
"It's not likely to be all that bad," says Harker, adding "I expect many of us to see a wind gust maybe close to 10 miles an hour."
Radar image from 9:20 a.m., September 12, 2017