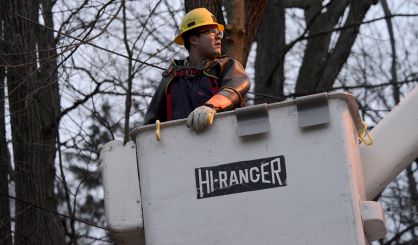 Utility workers from all over the country are helping out in Florida and Georgia with Hurricane Irma recovery this week. Dave Grace is a line worker for Consumers Energy from Vicksburg who tells WSJM News the damage is extensive in the West Palm Beach area.
"We still have a lot of homes boarded up," grace said. "Actually, we just got a warning they're expecting a storm this afternoon, just a typical Florida home. There's a lot of homes with the windows gone. Some of them you can't even live in the houses anymore. You get on down farther south, and they just don't have homes left to go to."
Grace tells us his crews have been working from 6 a.m. to 10 p.m. each day. He says the people who are getting their power reconnected have been thankful, bringing the line workers food. Grace is just one of 350 Consumers Energy workers to be sent into Florida and Georgia to help with hurricane recovery this week.