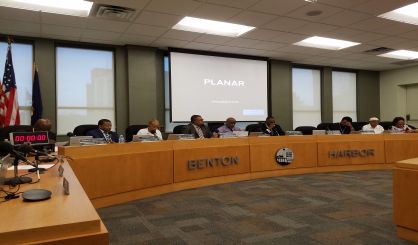 Benton Harbor City Commissioners have tabled a Harbor Shores request for an easement amendment to allow for a new pedestrian bridge to be installed across the Paw Paw River. At a Monday meeting, the commission was told the $1 million bridge from the Harbor Village neighborhood by Harbor Shores to the city of St. Joseph would enable people to walk and ride bikes all throughout the two cities. Commissioner Mary Alice Adams wanted more details.
"I think that there are some other parties we have neglected to hear from, such as our assessor and our attorney," Adams said.
Speaking for the project was Greg Vaughn with Cornerstone Alliance. He told WSJM News it's back to the drawing board.
"First, we've got to find out the reason for the tabling," Vaughn said. "I'm not clear on that. I think they had some issue or wanted to get an opinion from their attorney, which I respect. So, we'll see where it goes from there."
Commissioners questioned why Harbor Shores representatives didn't give a presentation, and the matter now goes back to committee. The St. Joseph City Commission has approved an easement for the bridge, and the project could still move forward even without Benton Harbor's consent. Vaughn told us Harbor Shores and Cornerstone wanted the bridge to be a joint asset both communities could own.