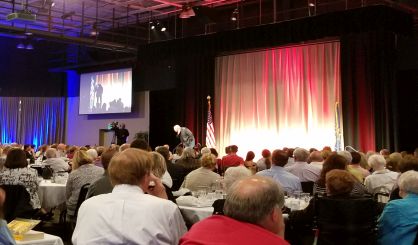 What every business needs to be successful. That was the focus of financial guru Dave Ramsey's address to the Economic Club of Southwestern Michigan Tuesday night. Dave's five principles — have good leadership, care about people, follow sound financial practices, maintain unity, and remember your higher calling. That means, Dave said, remembering what drives you to produce that widget in the first place.
"Why you're doing business matters more than what you're doing or how you're doing it," Ramsey said. "Why are you doing this?"
Dave's reason for his radio and publishing empire — he remembers what it was like being bankrupt and scared. He also told the crowd about running a lawn care business as a child and ultimately getting a real estate license as a young man. He later got into how his radio career started, ironically, on a bankrupt station in 1992. Ramsey fielded a few financial advice questions, as you hear him do each day on WSJM radio. Up next for the Economic Club of Southwestern Michigan will be former British Prime Minister David Cameron in November.