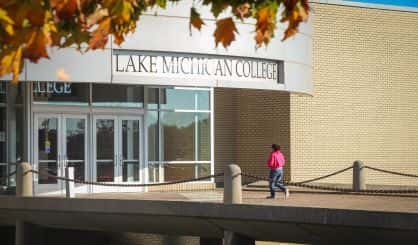 Lake Michigan College is seeking the lease for the Western Michigan University building on its Napier Avenue campus. The board of trustees Wednesday voted to move forward on a request to transfer a long-term lease agreement with the state of Michigan to LMC at a cost of $2.7 million. LMC President Dr. Trevor Kubatzke tells WSJM News WMU will still hold the same programs there, but this gives LMC a place to expand some of its own programs.
"This really is an outstanding opportunity for both of our institutions to serve the students of southwest Michigan," Kubatzke said. "It gives us the space we need to expand our business and computer science as well as give us some community space and it still solidifies Western Michigan on our campus, making sure they still have that next level, even up to master's degrees."
LMC says the deal will save it about $3.5 million planned campus renovations. Built in 2002, the Napier Avenue WMU building was constructed with $2.4 million of WMU funds. The WMU Board of Trustees voted Wednesday to move forward with the lease transfer negotiations.