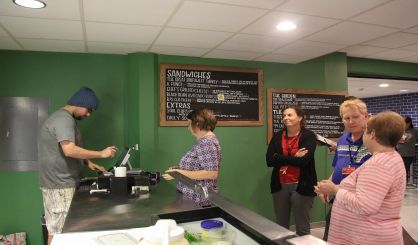 Lake Michigan College now has a new location for students and the public to grab a sandwich. The Mosaic on Campus Cafe opened Tuesday. LMC President Trevor Kubatzke tells WSJM News it's the first time an entity like Mosaic CCDA has opened a location on campus. He's pleased to see a convergence of the missions of Mosaic and LMC.
"They have their resale shop, and they have a construction area, and then they have their cafe," Kubatzke said. "So. we're not only helping them provide a venue to help more people get skills that can get them employed, but we're also exposing those folks to the education they can continue after being employed."
The new cafe is open Mondays through Fridays on the bottom floor of the main building at LMC's Benton Township campus. It's a satellite of the cafe run by Mosaic in Benton Harbor.