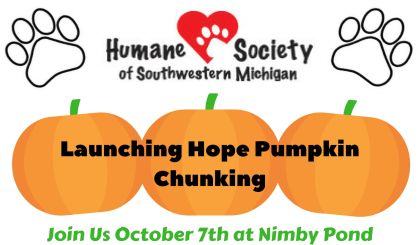 The Humane Society of Southwestern Michigan will hold a pumpkin chunkin' event this weekend. The society's Jill Svoboda tells WSJM News the Launching Hope Pumpkin Chunking Challenge will give everyone a chance to build their own machines to blast pumpkins for distance.
"We're giving teams an opportunity to build their own catapult, trebuchet, or canon to compete for trophies and prizes," Svoboda said.
Saturday's event will be a qualifier for a national championship to be held in Delaware in November. The pumpkin chunkin' competition will be from noon to 6 p.m. at Nimby Pond in Buchanan. They'll also have activities for the kids including face painting and a petting zoo. Plus, the kids will be allowed to try out blasting a pumpkin. All money raised goes to the Humane Society. You can learn more about this weekend's event right here.