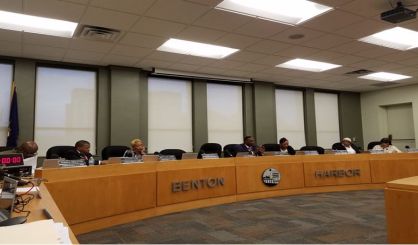 Benton Harbor City Commissioner Juanita Henry is hoping to hear more from the city's department heads about local business. She started last week's city commission meeting off with a proposal to suspend the rules and introduce a resolution calling for regular reports from staff.
"It requires that five department heads — the manager, the clerk, the assessor, legal, and finance — give us a report on what they're doing, who they're doing it with, and the results of what they're doing," Henry said.
Henry ran into a bit of a conflict with Mayor Marcus Muhammad over the introduction of the resolution at Monday's meeting. Muhammad said a surprise resolution that isn't an emergency would violate the commission's policies. It took about a half hour to resolve that question. Henry ultimately said she'd just bring the matter to the next meeting, this time with it on the agenda.