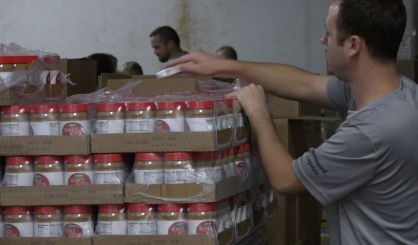 A team of Whirlpool volunteers has chipped in to make the upcoming winter a little better for area seniors. They helped the Southwest Michigan Community Action Agency pack meal packages on Tuesday in Benton Harbor. The action agency's Yvonne Vidt tells WSJM News the organization always needs the help.
"We try to get them monthly because we're only a staff of one and a half, and it takes a lot of community service people to pack those boxes," Vidt said.
The Whirlpool volunteers aimed to pack about 1,300 of the meals. They contained everything from peanut butter to fruit. Vidt tells us another big Southwest Michigan Community Action Agency event is just around that corner. That's the annual Stuff a Truck food drive set to take place next month with the help of 97.5 Y Country radio.