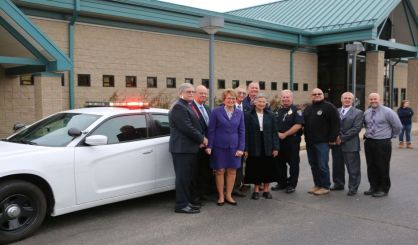 The law enforcement program at the Van Buren Intermediate School District has received an authentic police patrol car thanks to the Pokagon Tribal Police Department. Pokagon Tribal Police Chief Bill Lux tells WSJM News the ISD's law enforcement program trains many police officers of the future, and he's glad to help.
"There are a a lot of students from Berrien, Van Buren, and Cass counties attending," Lux said. "We're cross-deputized with all three counties…and we also have a lot of our Native American students from the Pokagon Band that attend the Van Buren Intermediate School District."
The 2011 Dodge Charger replaces a much older patrol vehicle the ISD was using. Matt Whitman, the ISD law enforcement instructor, says having a real police cruiser is valuable for giving students hand-on experience. Lux tells us the donated unit has had all markings removed, but it contains functional police equipment.