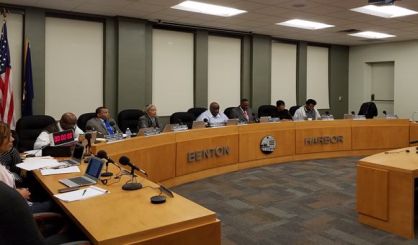 Benton Harbor City Manager Darwin Watson has a lot of work to do in the next couple of months. He tells WSJM News he's meeting next week with representatives of cities that have local income taxes now that Benton Harbor voters have approved one. He's also working with city commissioners as they draft an ordinance to govern how the tax will work. 
"There's a meeting set up for next Tuesday where we're going to go over some exemptions and things of that nature, pieces of the puzzle that need to be added to the ordinance so that come January 1, we're ready to collect the withholdings because, really, you can't actually file a return until April of 2019," Watson said."
Watson tells us businesses based in the city will have to withhold the income tax from employees, while residents who work for businesses outside the city will have to ask their employers to withhold it or fill out a form themselves each year. As far as those who do not live or work in the city but occasionally do work in the city, Watson says their employers could keep records or they just have to be honest. As far as how the tax will be administered, Watson tells us some cities contract handling of their income taxes with outside firms, while others do it in house. The state can also handle it. That's another thing that will have to be established by January 1. 
Meanwhile, at a Monday city commission meeting, Benton Harbor Mayor Mayor Marcus Muhammad said the money collected via the income tax creates new opportunities for the community.
"We have an opportunity to show that we can be good stewards, and this is a formula — not the only formula — but a formula that can be used to rebuild communities," Muhammad said.
Muhammad said streets throughout Benton Harbor can now see long-needed repairs, pointing to the recent grant-funded reconstruction of Colfax as an example of what could soon be seen all over. Commissioners all agreed it is now their job to ensure the funds collected with the new tax are used properly. Commissioner Sharon Henderson said diligence and transparency are key.