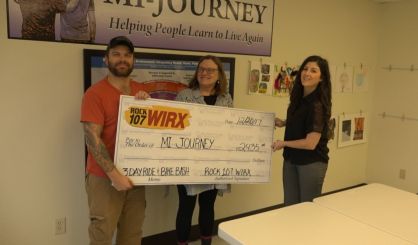 WSJM sister station Rock 107 WIRX has chipped in to help promote mental health in southwest Michigan. On Wednesday, morning host Brock Havens stopped by MI Journey in Benton Harbor to drop off a check. MI Journey is where folks who are struggling with mental illness can turn for counseling. MI Journey's Anna-Magdalena Christianson spoke with WSJM News.
"It's going to help with our recovery programming because one thing that's unique about MI Journey is that all staff have been there, have had serious mental illness, and have gotten better," Christianson said. "So, we know what it's like to be there, what it's like to get better, and we're kind of like guides."
Christenson told us the $2,400 WIRX donation will help run MI Journey programs. WIRX raised the money for MI Journey with its 3 Day Ride and Bike Bash this year. You can find out more at MI-Journey.org.
.