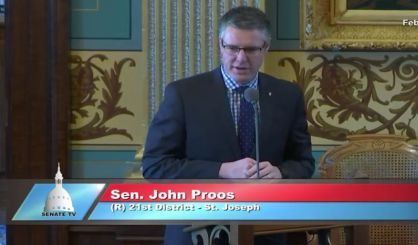 2017 has been a busy year for Michigan lawmakers, and state Senator John Proos says much of the work has positioned the state for a successful future. Proos tells WSJM News a big focus this year has been the budget and reducing long-term liabilities, sometimes in the form of pensions.
"Instead of 50, 60, 70 billion dollars in unfunded liabilities, we're now somewhere in the neighborhood of 40 to 50 billion," Proos said.
Proos is pleased with progress made in the last year when it comes to corrections. He tells us his focus has been on reducing the number of people locked up in Michigan while helping them resolve the underlying problems that led them to crime in the first place. The prison population is down.
"We're under 40,000 for the first time since the mid 90s," Proos said. "We were as high as 52,000 just a decade ago."
As for auto insurance reform, Proos says it's a shame the state House couldn't manage to approve a plan this year. He says perhaps the Senate can pull it off in 2018.