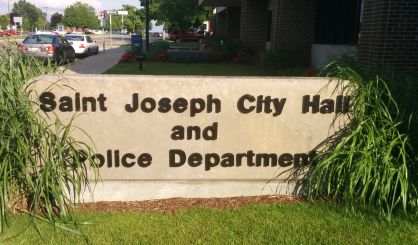 St. Joseph City Commissioners have indicated their support for installing life rings along the north pier. At Monday's meeting, the city commission instructed the city manager to work out a maintenance agreement with the Berrien County Sheriff's Department for life rings to be installed at the pier. The sheriff's department has said it could use its manpower to check the rings daily if the city installs them. St. Joe Mayor Michael Garey spoke with WSJM News about the proposal.
"I really want to give credit to Sheriff Bailey with his department stepping forward and being willing to maintain the life rings," Garey said. "He's contacted us that they have donors for the life rings so it answers a lot of questions that the city has about maintenance of the life rings. That was our biggest concern."
The city attorney on Monday told commissioners adding life rings to the pier does create some limited liability concerns. Commissioner Laura Goos said that's outweighed by what's right. Commissioners have heard from U.S. Coast Guard Petty Officer Lazaro Lopez about the issue. He told WSJM News he's pleased with the outcome.
"We're here to build a strong community, and I believe this is going to start it," Lopez said.
A city agreement with the U.S. Army Corps of Engineers allows for the rings. The goal now is to have them in place by this summer.