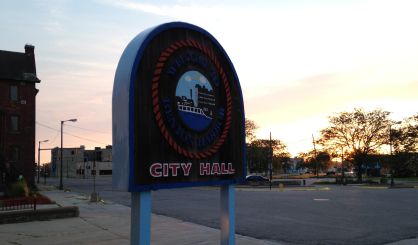 Benton Harbor City Commissioners have to decide what they want done with the vacant Alreco Metals property, and now they have solid information on one of their options. At Monday's meeting they learned the Berrien County Land Bank has two bids for the foreclosed property, one for $72,000 and one for $400,000. That second one is from the Harvest Foundation, a medical marijuana producer. Representative Larry Lemons told WSJM News his outfit wants to use the site for cultivation.
"It's in a secluded area, and it's in an area of need for economic development, not just the building itself but the city," Lemons said.
Lemons told commissioners the Harvest Foundation development would mean between 150 and 200 jobs, a $7 million investment, and $17 million paid to employees over four or five years. Mayor Marcus Muhammad said he's toured the Alreco property and sees a solid proposal here, not just promises of potential development.
"It behooves this council to spur economic development within the law and try to recoup a dismal tax situation that the city of Benton Harbor currently is facing," Muhammad said.
Muhammad said he is sending the land bank a letter to indicate his support for the idea and the sale of the Alreco property by December. Berrien County Treasurer Bret Witkowski told WSJM News after the meeting he thinks that letter would be sufficient to guide the land bank. Meanwhile, the city's planning commission continues work on drafting medical marijuana rules following previous commission instructions to do so.