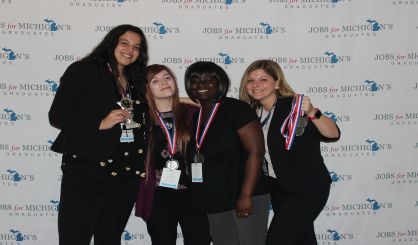 A Kinexus program that works with at-risk young people to make sure they graduate high school headed to Lansing last week to have some of its kids show off the skills they've learned. Youth Solutions, Incorporated Director Kristin Harrington tells WSJM News about 40 students from Benton Harbor and Hartford attended the Jobs for Michigan's Graduates Career Development Conference last Thursday. There, they competed to display employability skills.
"Our Hartford programming did quite well," Harrington said. "They were some of our leading programs from across the state in a number of competitions."
Harrington tells us the young people took part in mock interviews, public speaking engagements, and marketing exercises. The Hartford kids won competitions in the areas of Creative Problem Solving and Chapter Marketing. Harrington says the annual conference often gives young people from the area their very first chance to win at something.