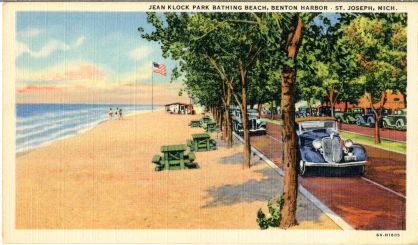 A presentation set for next week at the Heritage Museum and Cultural Center in St. Joseph will focus on the history of Jean Klock Park in Benton Harbor. Heritage Museum Curator Tracy Gierada tells WSJM News author Julie Weiss will present "The Legacy of Jean Klock Park" on Thursday. Weiss has published a book about the park.
"Ms. Weiss put a lot of extensive research into the history of the park from its founding and when it was dedicated by the city of Benton Harbor in 2917 and it was named after the late child of John and Carrie Klock," Gierada said.
Gierada tells us there's a fascinating history behind Jean Klock Park. Weiss is a Benton Harbor native who now lives in Chicago. Her book, "A Blessing to Humanity: The Legacy of Jean Klock Park on Lake Michigan" was published last year for the 100th anniversary of the park along the Lake Michigan shoreline. Next Thursday's presentation at the Heritage Museum will be at 6:30 p.m. It's free to attend, although they suggest a $5 donation.