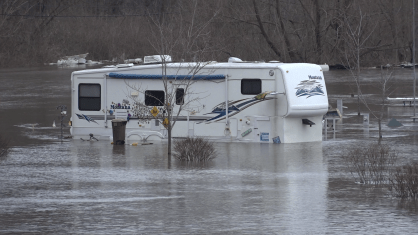 Congressman Fred Upton is pleased the federal government is putting up some of its resources to help those affected by floods this year in Berrien County. Last week, the Small Business Administration announced it will offer low-interest loans to those who suffered losses in flooding in several counties. Upton tells WSJM News this is a positive development.
"I toured a lot of our flood areas with Sheriff Bailey a couple weeks ago and saw first hand the difficulties," Upton said. "I don't think I've ever seen what this high, and I've lived here all my life."
The SBA loans are available for individuals and businesses in Berrien, Allegan, Cass, St. Joseph, and Van Buren counties, among others. Upton says anyone with questions can call his office for guidance. Also, there is an SBA loan outreach center set up in Berrien Springs this month. It's at the Berrien RESA Conference Center through April 10. Below is the schedule for the center.
DISASTER LOAN OUTREACH CENTER  –  BERRIEN COUNTY

Berrien Regional Education Service Agency – Conference Center (parking in rear)

711 St. Joseph Avenue

Berrien Springs, MI 49103-1583

Opening:             Tuesday, April 3, 2018

Hours:                 11:00 am – 6:00 pm

Day and              Wednesday (April 4) – Friday (April 6)

Hours:                 9:00 am – 6:00 pm

Saturday, April 7, 2018

10:00 – 2:00 pm

Closed:                Sunday, April 8, 2018

Closed all day Sunday

Closing:               Tuesday, April 10, 2018

9:00 am – 4:30 pm