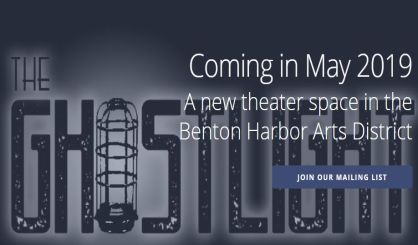 Benton Harbor is getting a new theater. Planned for May of 2019 is the brand new GhostLight Theatre to be located at 101 Hinkley Street right behind the Citadel Dance and Music Center. GhostLight co-owner Martha Hesse tells WSJM News the place is vacant right now.
"It's a warehouse of just about 5,000 square feet," Hesse said. "We're going to turn it into a black box theater with some dressing rooms, a really beautiful lobby, and a little storage space for sets and costumes."
Hesse says the new GhostLight Theater will be able to accommodate all kids of performances, whether they be jazz, country, dinner theater, or drama. The GhostLight Theatre is a collaboration of local performing artists, business people, and arts supporters. Hesse says it's one more way the Arts District in Benton Harbor is being revitalized. You can find out more about the plans at www.GhostLightBH.com.