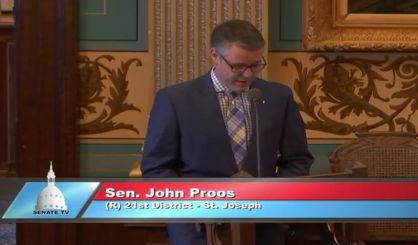 State Senator John Proos liked what he heard in Wednesday night's Republican gubernatorial debate. Dr. Jim Hines, state Senator Patrick Colbeck, Michigan Attorney General Bill Schuette, and Lieutenant Governor Brian Calley squared off at a forum organized by WOOD TV. Proos tells us the issues discussed matched when he hears about in southwest Michigan.
"Related to jobs and economy to jobs that re not paying as much as we'd like to see them pay, and then some discussion about the talent skills gap," Proos said.
Proos tells us skilled trades training will be a priority regardless of who becomes governor. While he liked things about all candidates, Proos thought Schuette looked strong.
"I thought he showed a great deal of leadership in areas like education and the kind of things it's going to take to be a strong governor in the future," Proos said.
Proos tells us the debate was a good chance to learn more about Hines and Colbeck, but really, he thinks it came down to the two front-runners, Bill Schuette and Brian Calley. Proos has endorsed Schuette in the race.