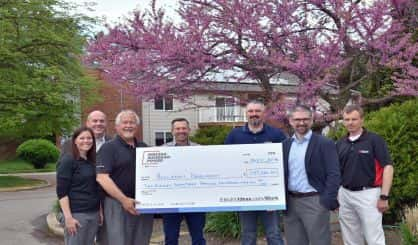 The owners of an apartment complex in Buchanan have received a check for more than $243,000 from Indiana Michigan Power for making improvements to their facility to save energy. Jason Muniz with Hollander Development Corporation tells WSJM News the company spent about $7 million to upgrade the units at Metea Court Apartments, a 100-unit community for low-income seniors.
"That included retrofitting all of the lighting with LEDs, replacement of the electric-resistance heating with ductless air heat pumps, and the replacement of the appliances with Energy Star appliances," Muniz said.
The check for more than $243,000 was presented to Hollander this week. Hollander has outfitted the 100 units at Metea Court with LED lighting, energy efficient appliances, ductless heat pumps, solar panels, and more.