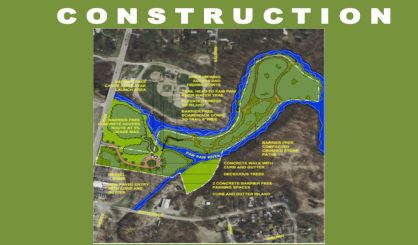 Berrien County's newest park should be open to the public by the end of the summer. Berrien County Parks Director Brian Bailey gave an update to county commissioners this month on Paw Paw River County Park located in Watervliet. Bailey tells WSJM News the park sits on about 15 acres of former brownfield property right off M-140. It covers an area east of the road, across the river, and on an island in the Paw Paw River.
"We'll have a barrier-free kayak launch and a canoe launch in the Paw Paw River, we'll have a bridge that will go from the parking area over the Paw Paw River for pedestrian use, and on each side of the river will be viewing decks," Bailey said.
Once you get to the island, you'll find a boardwalk, walking trails, two viewing locations that could be used for fishing, and boat access. Bailey tells us Paw Paw River County Park will be somewhat similar to Galien River County Park, only smaller. The $646,000 Phase One of construction should be done mid-August. The project is also being supported with a state grant of nearly $300,000.