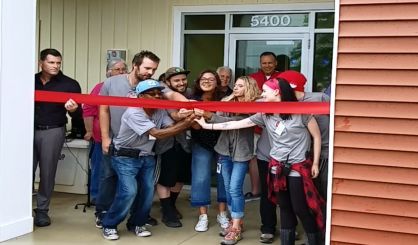 The Humane Society of Southwestern Michigan is now open for business at its brand new shelter in Royalton Township. The ribbon cutting and grand opening was held Saturday with supporters welcome to tour the new $2 million facility on Niles Road. The Yeager Family Pet Shelter has been about ten years in the making, with Humane Society of Southwestern Michigan Board President Don Blackmond telling WSJM News it's designed to have a long life.
"The construction was set so that the materials and the grade and so forth would last at least 50 years, and so this is a long-term building," Blackmond said.
The new shelter has about double the capacity of the old facility, with a conference area and even doggy doors in the kennels so the dogs can go in and outside as they please. Humane Society Executive Director Jill Svoboda told us the new shelter will make it easier for the organization to pair families with the right pets.
"Now, we have all of these different areas," Svoboda said. "We have eight outdoor runs, we have two meet and greet rooms just for dogs, and another meet and greet room just for cats."
Svoboda wanted to thank those who have donated to make the new shelter possible.
"It took a long time for us to get here, and there were times when we questioned, 'Does our community really need us?'" Svoboda said. "They answered. They answered by giving support and encouragement."
Blackmond told us the Humane Society of Southwestern Michigan bought the five acres of property for the new shelter about five years ago. Saturday's grand opening was almost exactly one year after ground was broken.
"For it all to come together and be open to the public and see the reaction from the public, it's a fantastic feeling," Blackmond said. "It started as a dream, and now it's a reality."
The Humane Society of Southwestern Michigan was greatly helped in the shelter project by the Yeager Family, who put up a $700,000 challenge grant. You can still contribute to help the Humane Society pay the shelter off.