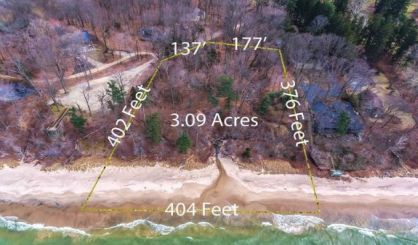 A group of Chikaming Township residents is working to raise enough money to purchase a parcel of land next to Cherry Beach so they can keep it pristine. Cherry Beach Committee Co-Chair Susan Phelan tells WSJM News the group hopes to collect about $1 million for the three acres adjacent to Cherry Beach so the beach can be expanded.
"Cherry Beach is one of those destinations that people who are year-round residents or people who just come up for a week in the summer know about it," Phelan said. "it's just an incredible vista."
In all, the property's current owner is seeking $4 million for the land, but Chikaming Township, the Carls Foundation, the Upton Foundation, and the Michigan Natural Resources Trust Fund would also be chipping in. Phelan notes if the effort to buy the land is successful, the lakeshore reach of Cherry Beach will be more than doubled.
"In all of Chikaming Township, there are seven miles of lakefront," Phelan said. "Two percent of the lakefront is public, and this would dramatically change that equation."
The land the Cherry Beach Committee is raising money to buy could be developed for high-end residential purposes if the committee fails to reach its goal to keep it public. The Cherry Beach Committee is taking pledges now to purchase that parcel of land, and the Berrien Community Foundation is serving as the processor of those pledges. No money will be taken until a Michigan Natural Resources Trust Fund is secured. You can find out more, and also make a pledge, right here.