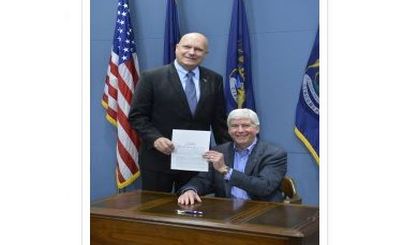 The first half of the year is done for state lawmakers, and they're taking a few months off for the summer as is tradition in election years to campaign. WSJM News talked with Representative Dave Pagel of Oronoko Township about what he's proudest of that the Legislature has done so far in 2018.
"When the federal government did their tax cut, we also cut our taxes so that Michigan residents wouldn't lose out on the federal tax cut," Pagel told us. "That was the right thing to do."
Pagel adds the elimination of the state's prevailing wage law, which was approved this month, will save the state money. That law required workers on government construction projects like roads, schools and the like be paid the going rate for union wages in that particular area. The measure had been headed to the November ballot, but the House and Senate exercised their option to vote on it
State House Speaker Tom Leonard this week said he believes the biggest accomplishment of the first part of the year was the elimination of the very unpopular driver responsibility fees, which were enacted in 2003 to try to balance the state budget. Those are being forgiven and wiped out in October.