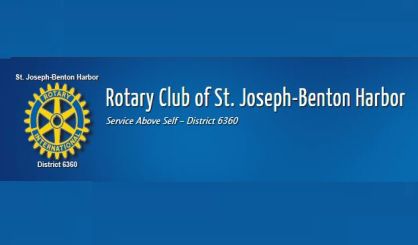 Members of the Rotary Club of St. Joseph-Benton Harbor are celebrating the local chapter's 100th anniversary this year, and got a treat over the weekend. Rotary International President Ian Riseley was the keynote speaker at the centennial celebration at Lake Michigan College's Mendel Center on Saturday. Riseley tells WSJM News a main focus for Rotary International is to recruit young people to get involved.
"We have programs for high school kids, we have programs for college kids. We have to stay as close as we can to them, so should they be inclined, they move on to Rotary membership," Riseley said. "That way, automatically almost, we become a younger organization."
He added they're working to better track the impact the chapters have on their communities.
"I've asked each of the Rotary clubs, including the one here at St. Joseph-Benton Harbor, to give me just two items of information when the year is finished. One is the the amount of money they spend on charitable activity. The second one, and in my opinion just as important, the hours they have spent on doing charitable stuff."
Riseley says Rotary International has always kept good track of the overall impact of the organization, but he wants to find out more at the grass roots level.